Electric Pallet Truck: AME 15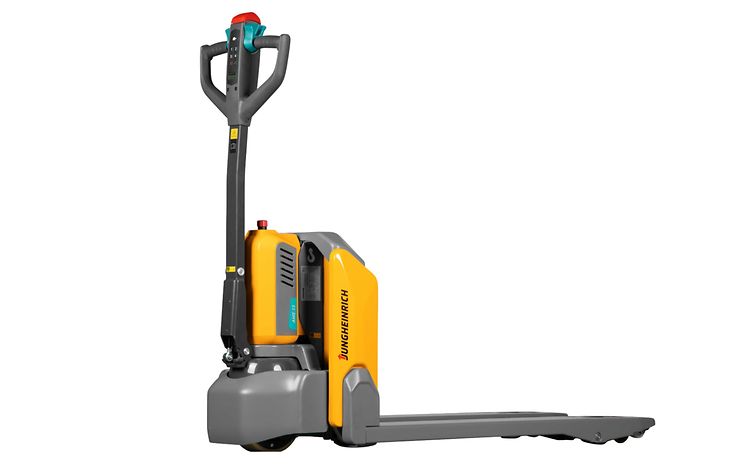 Our flexible and cost-effective AME 15 electric pallet truck is an economical mid-range model in the electric hand pallet truck segment. It is the perfect assistant when used on board heavy goods vehicle or for daily pallet transport. The lithium-ion battery with zero maintenance guarantees maximum availability, while the opportunity charging function promises further performance gains. The ergonomic control panel and PIN code access make handling easier for the operator.
Electric Ride-on Pallet Truck: EJR 120n / ERE MA 120*
The powerful ride-on & pedestrian pallet truck for flexible usage. Thanks to the folding stand-on platform with restrain arms, goods can be comfortably transported over even greater distances. In pedestrian mode, with automatically folded up platform, it can be manoeuvred in very narrow aisles and even in heavy goods vehicle and containers. The innovative 3-phase AC drive motor is another advantage. Its optimised efficiency ensures high speed and powerful acceleration, ideal for fast, efficient throughput.
Electric Forklift Truck: EFG BC 320
The robust and agile EFG BC 320 is equipped with the latest Li-ion electric power, outstanding maneuverability and smarter than ever before. Our electric counterbalance forklifts deliver maximum efficiency with minimum energy consumption. Agile electric forklifts deliver top performance with the latest three-phase maintenance free motors and our mature PureEnergy concept. This technology coordinates all forklift truck components, achieving optimum efficiency automatically. Efficiency meets economy in an electric forklift.
Reach Truck: ETV MC 320
The ETV M Series Reach Truck is specifically designed for use in narrow aisle racking and retrieval applications. Its compact design, extremely reliable mast, availability of integrated li-ion battery contributes to your high throughput and great flexibility in transporting and high stacking. Thanks to an ergonomic concept, the ETV MC 320 perfectly adapts to different working environment with customized operating components and intelligent equipment options and also guarantee your operators safety in the warehouse.
About India Warehousing Show (IWS)
India Warehousing Show is India's largest exhibition in its segment, and it is the window for the technologies and various trends in the material handling products, material handling solutions, storage systems, automation, warehousing and logistic services.